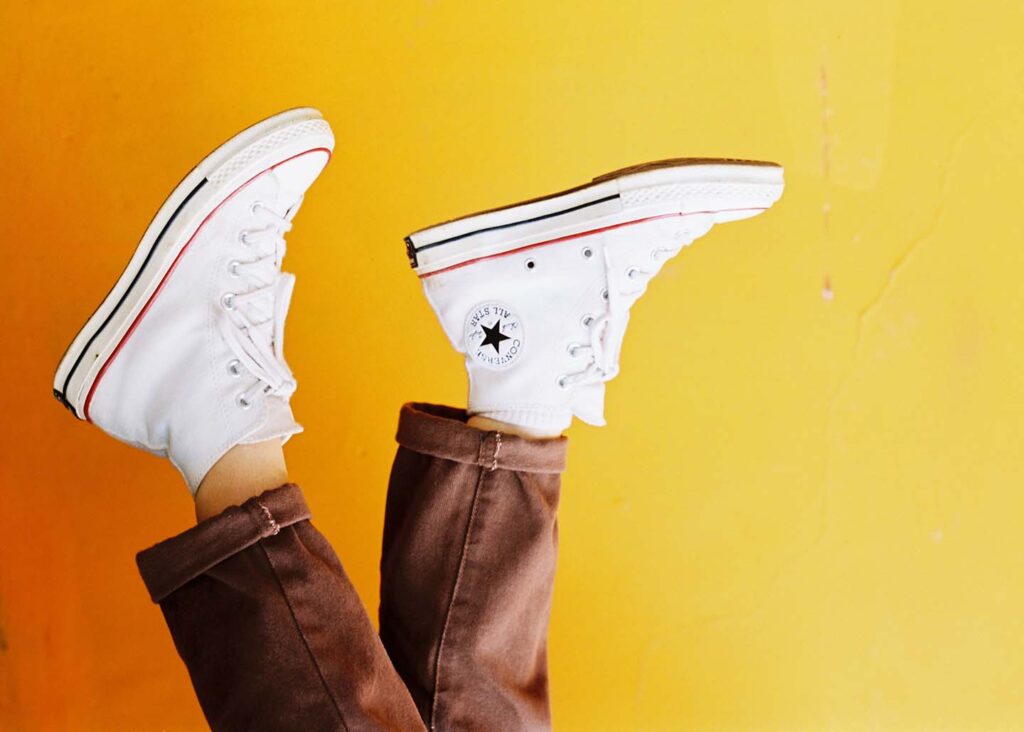 High top sneakers have long been a beloved footwear choice, originating from the basketball courts and effortlessly transitioning into the realm of fashion. With their unique silhouette and undeniable cool factor, high top sneakers add an instant dose of style to any outfit. And now, with the rise of ethical and sustainable fashion, vegan options have made their way into the market, allowing us to rock the cutest high top sneakers guilt-free. In this blog post, we'll explore some of the most adorable vegan high top sneakers available, proving that you can look fashionable while staying true to your values. So, lace up and let's dive into the world of cute and compassionate footwear!
Don't forget to try before you buy! Shopping for shoes online can be hard. If you're shopping on Amazon you can try before you buy. Choose up to six items but only pay for what you keep.
5 Best Vegan High Top Sneakers
What makes the Chuck Taylor High Tops so special is that they only get better with time. As you wear them, they develop a unique and personalized look that adds character to your overall style. From casual outings to more formal occasions, these sneakers effortlessly blend versatility and fashion.
The retro-inspired hightop design adds a touch of nostalgia to your outfit, while the cushioned footbed and durable rubber outsole ensure all-day comfort. Whether you're running errands or exploring the city, your feet will stay relaxed and supported. The versatility of these sneakers is unmatched, as their old-school design easily pairs with any style or outfit.
From your favorite jeans and shorts to athletic wear and even casual sundresses, these women's platform sneakers elevate any ensemble. With Levi's signature quality and attention to detail, you can trust that these hightop sneakers will become a staple in your wardrobe, effortlessly bringing together comfort and style.
In terms of style, these high-top fashion sneakers boast stitched chevron detail and a trendy 2 1/4-inch platform sole. They effortlessly elevate any look, adding a sporty and retro touch to your outfit. Even the packaging is consciously designed, as these sneakers are shipped in a box made with recyclable materials and soy-based inks.
One of the best things about these sneakers is their versatility. They effortlessly elevate any outfit, whether you pair them with your favorite jeans for a casual look or dress them up with a sundress or skirt for a more stylish ensemble. No matter how you choose to style them, these Levi's Mono Vegan Leather Sneakers will turn heads and make you feel confident.
One of the standout features of the Rocket Dog Jazzin High Top Sneaker is its attention to comfort. With a cushioned footbed and a breathable canvas upper, these sneakers ensure that your feet stay comfortable and cool throughout the day. The secure lace-up closure provides a snug fit, while the oversized rubber toe cap adds a touch of style and durability.
Customers have praised these sneakers for their resemblance to the iconic Chuck Taylors but with even more room in the toe box. This makes them not only stylish but also incredibly comfortable to wear. Whether you're walking around town or enjoying a casual day out, these sneakers will keep your feet happy.
Your Guide to Vegan Style
Thank you for joining us on this journey towards ethical and cute fashion choices. At Roaring Spork, we are committed to being your trusted guide in discovering sustainable and animal-friendly footwear options. Whether you're looking for the best black vegan sneakers or stylish vegan loafers, we have you covered. Stay tuned to our blog for more inspiration, tips, and recommendations as we continue to explore the world of conscious fashion together. Together, let's make a positive impact and look fabulous while doing it!