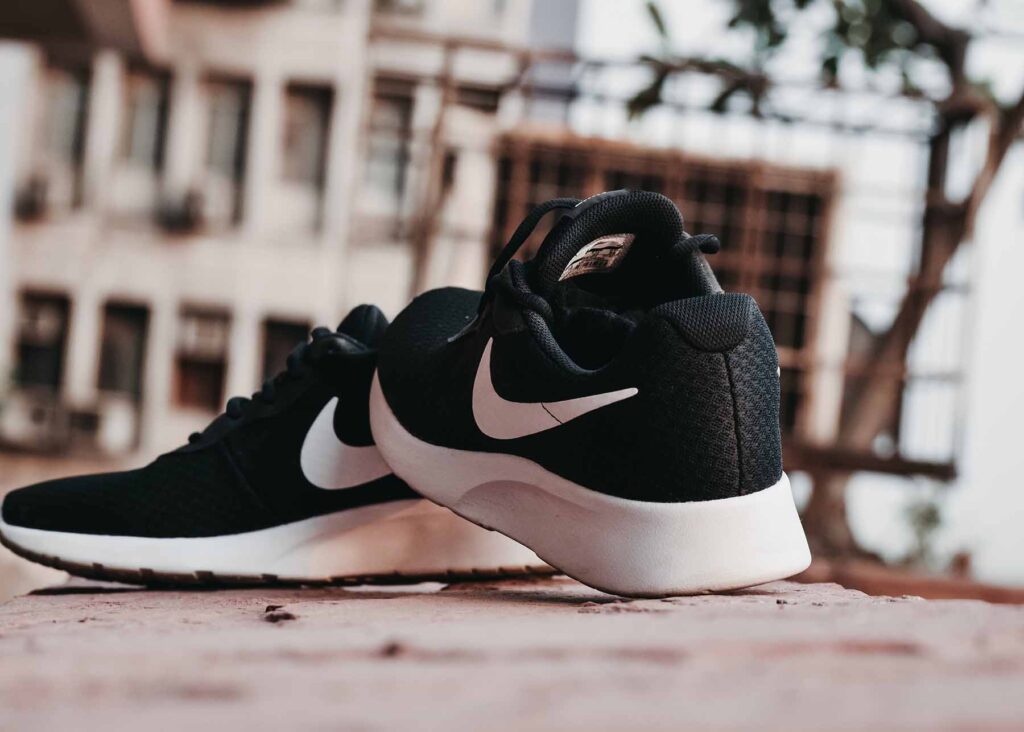 Looking for a pair of stylish and sustainable sneakers? Look no further! In this blog post, we'll be exploring the world of black vegan sneakers, highlighting the top 5 options that effortlessly blend fashion, functionality, and quality. Whether you're a conscious consumer looking to make an eco-friendly choice or simply someone who appreciates a sleek and versatile pair of kicks, we've got you covered. Get ready to step into the world of ethical footwear without compromising on style or performance. Let's dive in and discover the best black vegan sneakers on the market today!
Don't forget to try before you buy! Shopping for shoes online can be hard. If you're shopping on Amazon you can try before you buy. Choose up to six items but only pay for what you keep.
Our Top Five Picks for High Quality and Cute Black Vegan Sneakers
Not only does this shoe offer exceptional comfort, but it also boasts contemporary styling that effortlessly merges with running performance. The breathable mesh bootie ensures a comfortable sock-like support while keeping your feet debris-free, allowing you to tackle any terrain with confidence. The integrated rubber pods provide excellent grip and long-lasting durability, ensuring that these sneakers stand the test of time.
As a brand, Cole Haan is renowned for its commitment to quality and style, and the Women's Zerogrand Overtake All Terrain Runner lives up to that reputation. The premium details elevate the overall design, making this shoe a standout in terms of both fashion and functionality. Whether you're hitting the trails or simply running errands, this versatile sneaker delivers stability, security, and a chic look that's sure to turn heads. Don't compromise on style or ethics – put your best foot forward with the Cole Haan Women's Zerogrand Overtake All Terrain Runner Water Resistant Running Shoe.
One of the standout features of the Classic Harman Run Sneaker is its timeless low-cut design. This design not only adds to the overall aesthetic appeal but also ensures comfortable and effortless wear throughout the day. Whether you're running errands or going for a casual stroll, these sneakers provide the perfect blend of comfort and style.
The subtle iconic side profile of the shoe adds a touch of heritage to your outfit, making it a versatile choice for any occasion. From jeans to leggings, these sneakers effortlessly elevate your everyday style, giving you that extra boost of confidence wherever you go.
What sets the Reebok Women's Classic Harman Run Sneaker apart is its commitment to being vegan-friendly. By opting for vegan leather, Reebok has made a conscious effort to provide a high-quality, cruelty-free option for fashion-forward individuals. You can rock these sneakers knowing that they align with your values and contribute to a more sustainable future.
Designed with everyday wear in mind, these sneakers boast a REVlite midsole that delivers lightweight cushioning for a highly responsive ride. Additionally, the NB Memory Sole Comfort Insert ensures a plush feel with every step, making them perfect for all-day wear. The synthetic material used in their construction provides a lightweight fit and feel, elevating your comfort levels whether you're running errands or exploring the city. Available in a range of colors, the New Balance FuelCore Nergize V1 is the modern sneaker that effortlessly complements any wardrobe.
The soft and durable Flexweave knit upper provides breathability while offering integrated support for multidirectional movement. Whether you're jumping, climbing, or lifting weights, these shoes give you the confidence to conquer any exercise. The Floatride Energy Foam cushioning ensures a comfortable fit, providing lightweight and responsive support without compromising stability.
What sets these shoes apart is their shock-absorbing EVA foam midsole, which offers superior foot support during high-intensity workouts. From crossfit to cardio, and even running, these shoes have got you covered. Plus, their sleek shape and ultra-stylish design make them a fashion-forward choice that helps you crush your workout goals while feeling good about what you're wearing.
But it's not just about looks – Cole Haan is known for its commitment to quality and comfort. The Grand Crosscourt II Sneaker features a comfort footbed that provides superior cushioning, ensuring all-day comfort. The lightweight EVA outsole with fluting detail not only adds a unique touch but also reflects the brand's attention to detail and craftsmanship. With strategically located rubber pods on the outsole, you can count on reliable traction, making these sneakers suitable for various terrains. Overall, these sneakers offer the perfect combination of style, comfort, and durability, making them a must-have addition to your footwear collection.
The Best of Vegan
When it comes to finding the best black vegan leather shoes, we've covered some top options that combine style, quality, and cruelty-free materials. But our commitment to providing you with valuable vegan product reviews doesn't stop here. If you're looking for more insights and recommendations, be sure to check out our comprehensive guide to vegan loafers, where we delve into the world of stylish and sustainable footwear. Stay tuned for more informative content as we continue to explore the best vegan products on the market. Together, let's embrace a compassionate lifestyle without compromising on fashion or ethics.