We've been living in the valley for years now, and we've picked our way through the restaurant scene. Or should we say, the best restaurants that at least have a vegan option in Aspen, CO? For such a high-end vacation town, you'd think Aspen would be swimming in plant based options. Alas, Aspen's vacationers appear to like meat and cheese – and the restaurant scene caters to them. 
There are two really great options for vegans in Aspen, those being Pyramid Bistro and Spring Cafe. Besides that, there are several places that have a vegan option (or two) – just don't expect a plethora of choices at each establishment. 
7 Best Vegan Restaurants in Aspen, Colorado
#1- Pyramid Bistro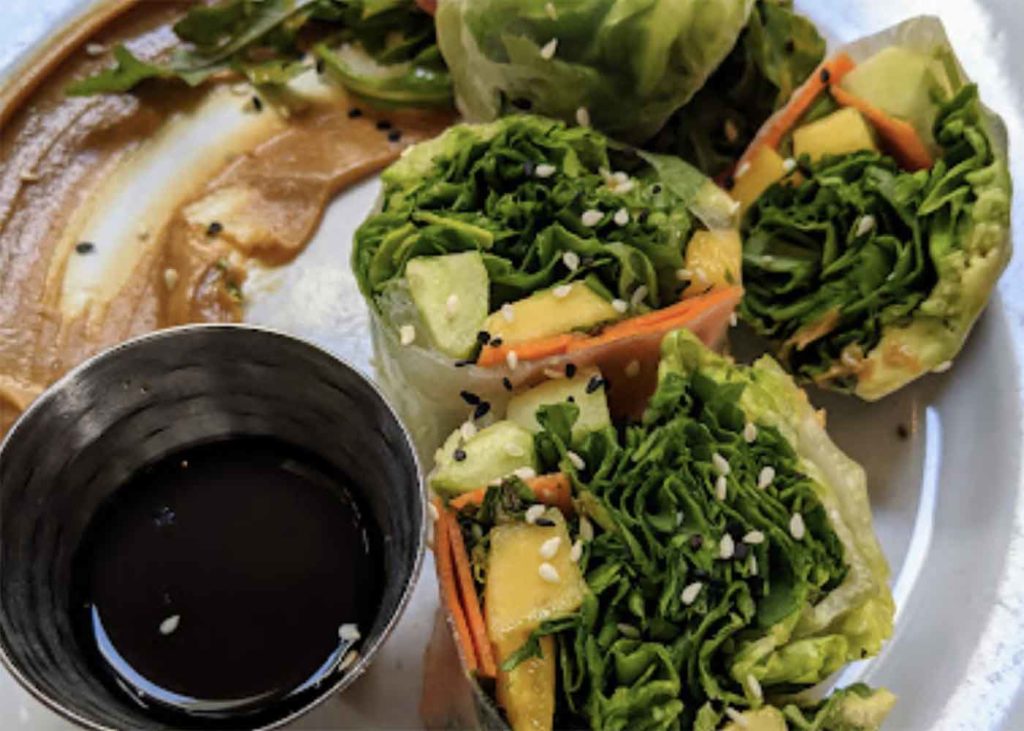 Cuisine: Global cuisine with a healthy focus
Mood: Cozy, charming, upscale
Serving: Lunch & dinner
Pyramid Bistro is always my top choice for vegan food (and date nights) in Aspen. This quaint restaurant is right above Explore Booksellers, and you have to go into the bookstore to enter the restaurant. Pyramid Bistro is a nutritarian restaurant, so the focus on every dish is getting the most micronutrients per calorie. They offer vegan, vegetarian and gluten free options. Everything is clearly labeled on their menus so you don't have to worry about asking the waiter for details. 
The menu changes with the seasons, but you can always expect a rotating selection of vegan dishes. Think spring rolls, potstickers, unique vegetable soups, curries, stir fries, risotto, and really great salads (the kind you want to order, not the kind you get stuck ordering). They also have fresh squeezed juices and if you go you have to save room for dessert. There is always a vegan option that is over the moon delicious.
Example meal: Pureed hazelnut mushroom soup, warm brussel sprout and kale salad, lemongrass tofu stir-fry & dark chocolate pot de crème.
#2 – Spring Cafe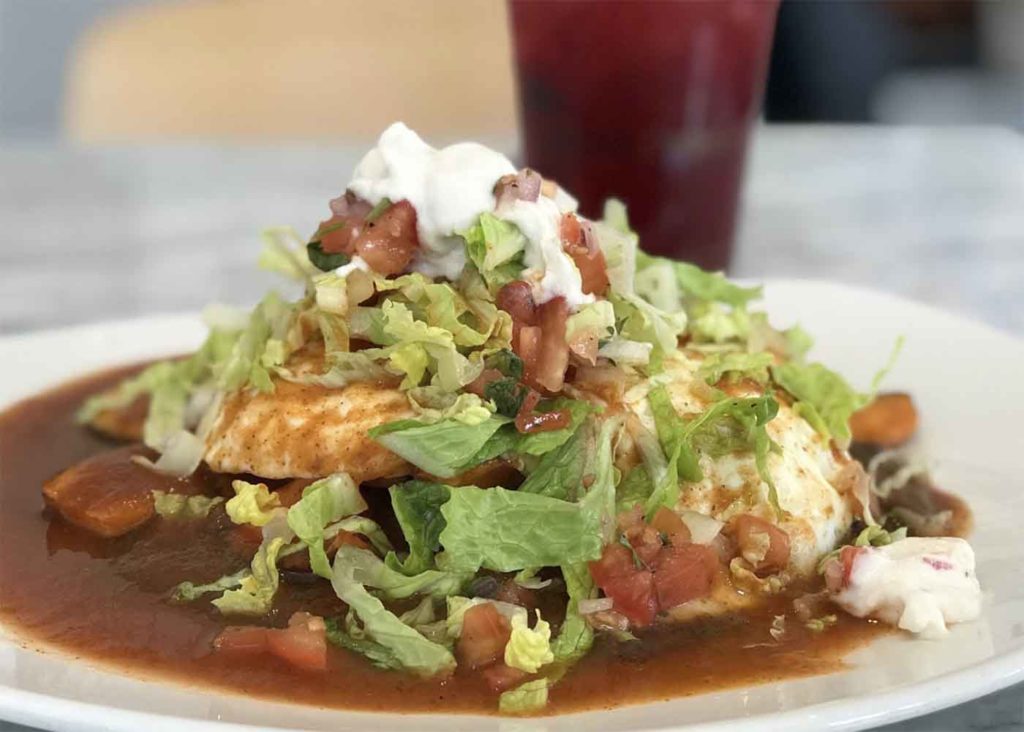 Cuisine: Modern healthy cafe, plant based, organic
Mood: Casual, bright
Serving: Breakfast & lunch
Spring Cafe is a great spot for a quick and healthy breakfast or lunch. Think modern, healthy bakery. The atmosphere is bright, with lots of white walls and big sunny windows. You order at the counter and they give you a table number. The service is quick – your food will usually be ready in 5-10 minutes. This vegetarian restaurant offers plenty of vegan and gluten free options, and everything is clearly labeled on their menus. 
Some menu items change seasonally, and some popular dishes are permanent. You can always expect scrambles, soups, salads, wraps and soul foods. When you see their bakery you'll want to leave with something – they offer breads, cookies, cakes, granola, macaroons and more. They also have a full juice / smoothie / coffee bar.
Example meal: Sultry caesar salad, mango black bean quesadilla & carrot cake.
#3 – Kenichi
Cuisine: Japanese
Mood: Contemporary
Serving: Dinner
Kenichi is an excellent choice for dinner out on the town, especially if you fancy veggie sushi. The atmosphere is refined, with low lighting and a lounge-like feel. There are a couple of sushi items as well as entrees that suit vegans. 
Side note: Kenichi has a sister restaurant in Carbondale, CO named Izakaya. Izakaya has a great outdoor seating space. Carbondale is such a cute town to explore if you're interested in a day trip while you're in Aspen.
Example meal: Crispy tofu, austin roll, pineapple express roll, yasai maki
#4 – Aspen Tap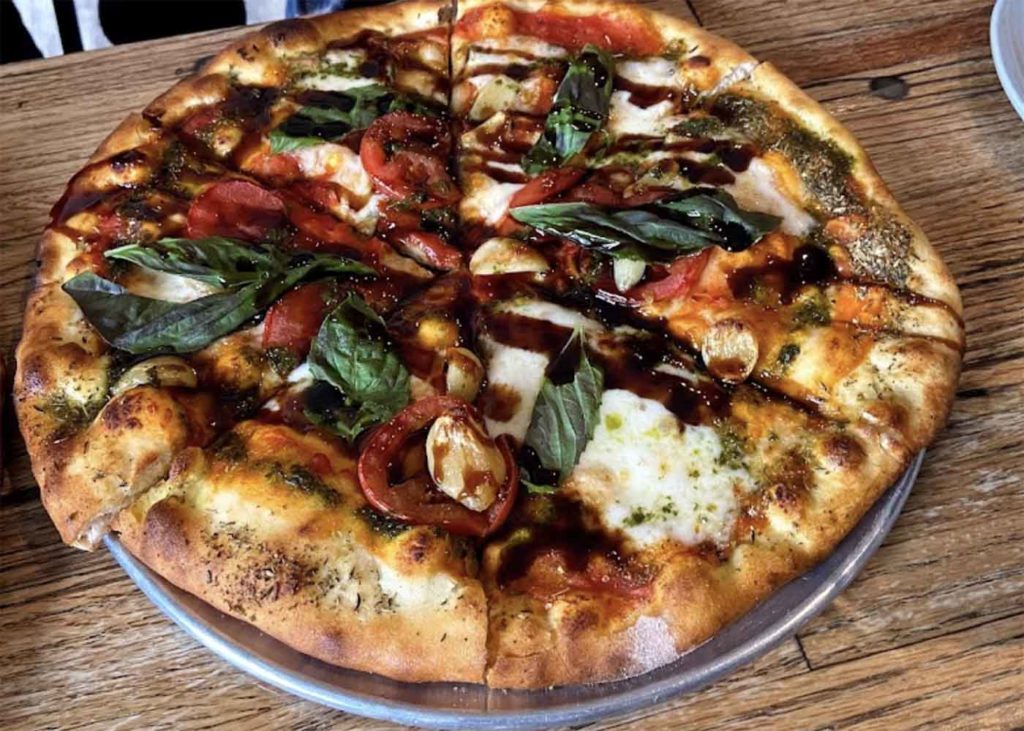 Cuisine: Pub grub
Mood: Laid back, lively, ski town brewery
Serving: Lunch & dinner
A trip to Aspen isn't complete without stopping by Aspen Tap. Aspen Tap is a solid choice for Apres, lunch, or dinner. The atmosphere is modern minimalist, with wood fixtures and big white walls. The energy is loud at Aspen Tap, and you'll certainly run into locals. Outdoor seating is also available, and you can usually expect to see a pup or two hanging out on the patio.
There are several bar-type snacks on the menu that vegans can enjoy, like a hummus plate and mixed spiced nuts. Aspen Tap offers soups and salads, and many of the salads are vegan if you hold the cheese. Finally, there is a vegan pizza on the menu and you can also build your own pizza.
Example meal: Coconut potato soup & very vegan pizza with pesto sauce, cashew cheese, roasted garlic & balsamic vinegar.
#5 – Mi Chola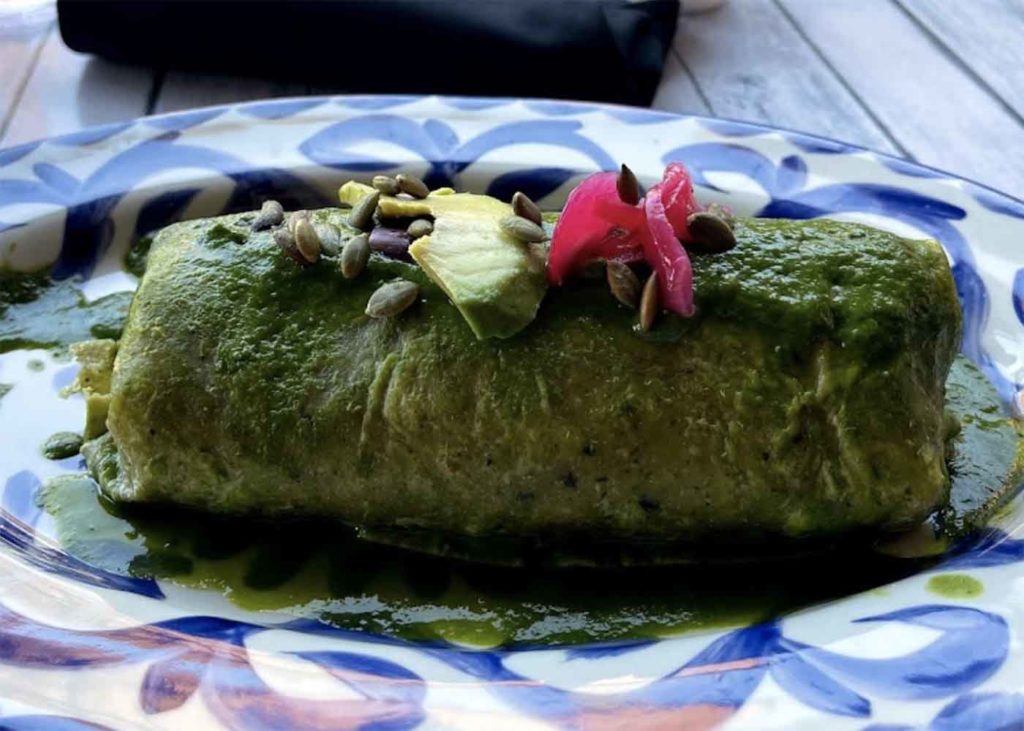 Cuisine: Mexican
Mood: Funky, eclectic & colorful
Serving: Lunch & dinner
Mi Chola is a wonderful option for lunch or dinner, as evidenced by the lines usually seen coming out of their door. The interior at Mi Chola serves as nonstop entertainment with funky, eclectic and colorful scenes all around. 
Like most restaurants that serve up Mexican cuisine, a vegan can always find something to eat. Mi Chola steps it up a notch by offering a harvest bowl with seasonal veggies – just in case you aren't craving a bean burrito.
Example meal: Guacamole, harvest bowl with seasonal veggies, jalapeno-cilantro lime rice, black beans, roasted red salsa, radish and pickled onions. 
#6 – Grateful Deli
Cuisine: Made-to-order deli sandwiches
Mood: Grateful Dead themed
Serving: Lunch
A well-known favorite, Grateful Deli is known for its sandwiches but the salads are also delicious. Our favorite, the Veg-Out which comes with Avocado, spinach, cucumber, tomato, lettuce, red onion, banana peppers, sprouts, oil & vinegar, salt & pepper on a freshly baked sub roll. If you're vegan, ask to hold the optional mayo and cheese.
Safe to say the Grateful Deli is the only place serving sandwiches for under $10 in Aspen, pay in cash and your sandwich is $9 out the door. It's a miniscule location with no indoor seating and a few outdoor tables so grab your sandwich and find a park bench in the sun to chow down.
#7 – SO Cafe at AAM
Cuisine:

A focused menu of classic flavors 

Mood: Casual
Serving: Lunch
The SO Cafe is located on the top floor of the Aspen Art Museum and is a great way to escape the hustle and noise of the city. Often forgotten about in the overcrowded Aspen dining scene, the SO Cafe offers a focused menu that works perfectly for the mid-day meal. 
The menu always consists of a soup, salad, vegan/vegetarian option and desserts so making a decision isn't hard. Dining at SO comes with the perk of checking out the artwork, as admission is always free thanks to a permanent endowment.
Example meal: Coconut & carrot soup, hummus plate. The menu at SO Cafe changes weekly.
More Vegan Food
If you enjoyed our recommendations, be sure to check out our vegan recipes. We've got everything from Stuffed Delicata Squash to Goji Berry Muffins and Vegan "Steak" Tartare.