Vegan Tartare Recipe
I'll be honest, I've never had tartare made from meat, but my husband has. The first time I saw tartare on a menu was on our honeymoon. We had the pleasure of dining at 221 South Oak in Telluride and the head chef cooked up a mean beet tartare. I saw it on the vegetarian menu as an appetizer but understood little besides it was vegan and made from beets. We've had it at two restaurants since, and each time I've thought surely I can make this. Turns out its pretty quick, easy and delicious, especially if you've got some crostini or chips to pair with it!
Vegan Beef Tartare
What should you use in a vegan beef tartare recipe? We prefer beets because they are hearty and pack a bite. They also provide a lovely color and offer a lot of juices.
Beet Tartare Recipe
This vegan beet tartar recipe will impress friends and family. A little bit of heat is the perfect compliment to slightly sweet beets. Beets already carry an earthy flavor so the ancho chiles and tamarind in this recipe give it a full flavor.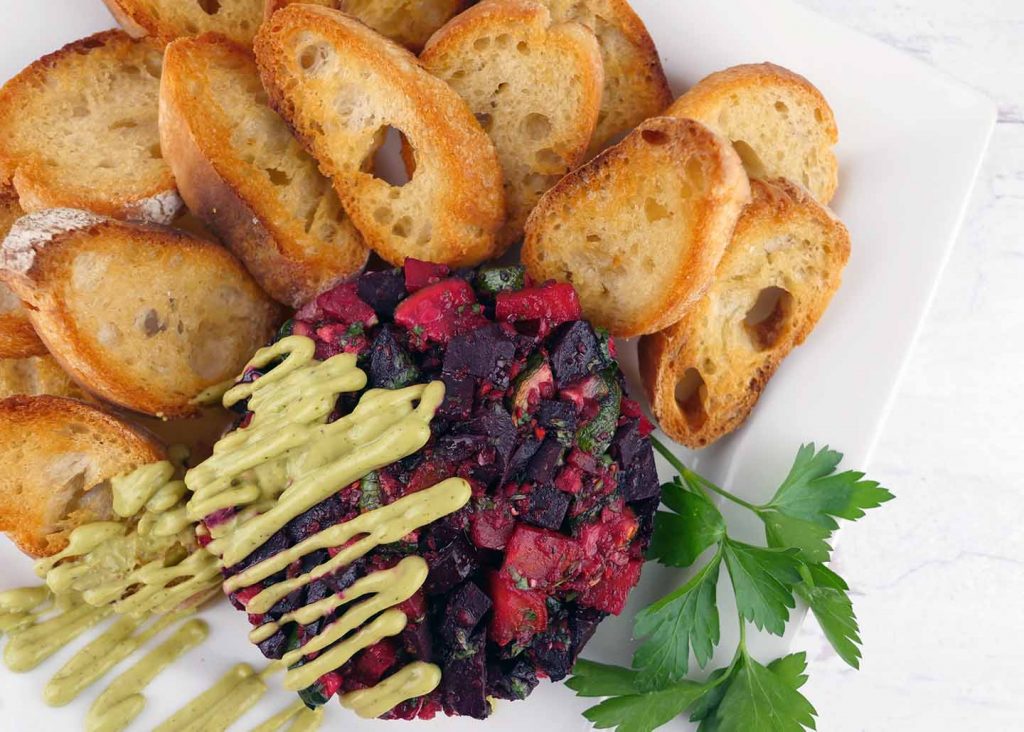 Making Vegan Steak Tartare
Making vegan "steak" tartare is pretty easy. I prefer both red and golden beets so you get a bit of color variation. We cook our beets whole and rub the skins off after they are just cool enough to touch. Then we chop them, coat them in a sauce and pack them into that infamous tartare shape (a biscuit cutter, large circular cookie cutter or soufflé dish works perfectly). Pop them in the fridge until cool and serve with avocado crema and crostini!
Nutrition Facts
4 servings per container
---
Calories188
Amount Per Serving% Daily Value *
Total Fat 13.3g

20

%
Sodium 188mg

8

%
Amount Per Serving% Daily Value *
Potassium 635mg

19

%
Total Carbohydrate 17.7g

6

%

Dietary Fiber 4.1g

16

%
Sugars 11.2g

Protein 3.3g

6

%
* The % Daily Value tells you how much a nutrient in a serving of food contributes to a daily diet. 2,000 calories a day is used for general nutrition advice.
*Nutritional values are approximate based on best available data