Each year around halloween someone in our neighborhood places little pumpkins in very random spots. We live in a rural community, so it's always funny to see a very small pumpkin sitting on a rock by a stream, or in the middle of a field. It always gets me in the mood for pumpkin everything, and this vegan pumpkin ravioli is no exception.
The morning after we made this my husband told me he went to bed and woke up thinking of this ravioli. We hope you enjoy it as much as we did!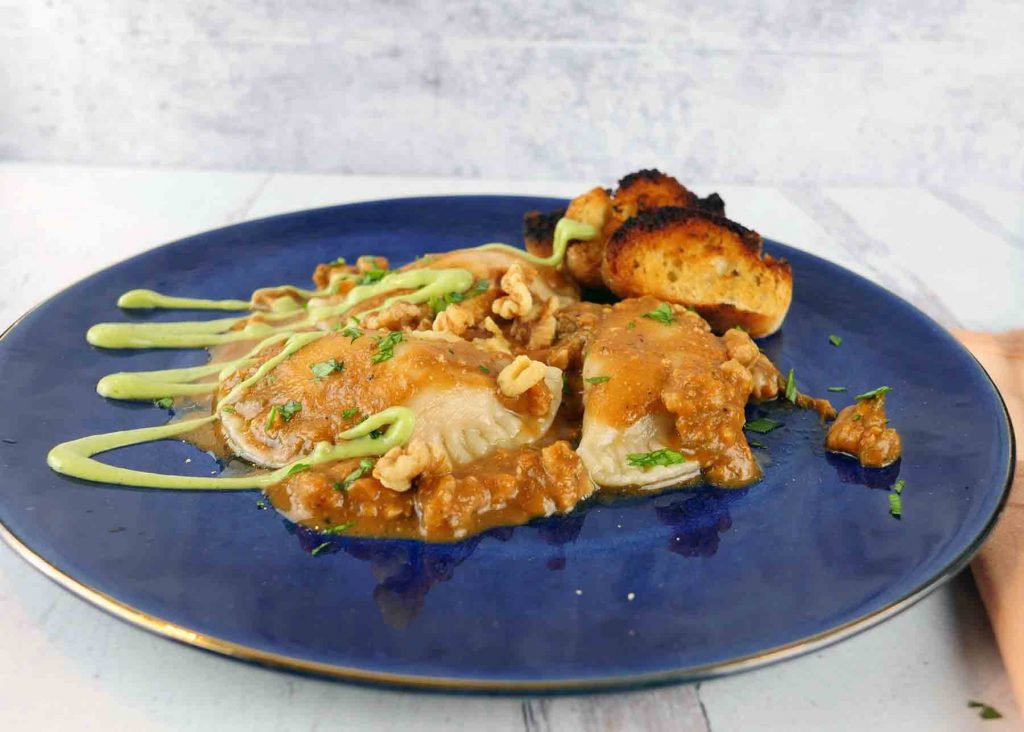 Vegan Ravioli Dough
Vegan ravioli dough is super easy to make, especially if you have a pasta machine and some biscuit cutters. We have a hand crank pasta machine, and I find myself getting into a rhythm when I'm rolling out the dough. Look, I know homemade pasta dough (especially vegan) can be intimidating… but it's really not hard. Have some confidence in yourself – and if all else fails use some store bought pasta dough!
Many ravioli dough recipes call for eggs – but that's really easy to work around. Our vegan ravioli dough consists of flour, olive oil, water and salt (see, four ingredients. How can you go wrong?). Getting the proportions of these ingredients right and letting the dough rest in the fridge for an hour will ensure your dough doesn't fall apart.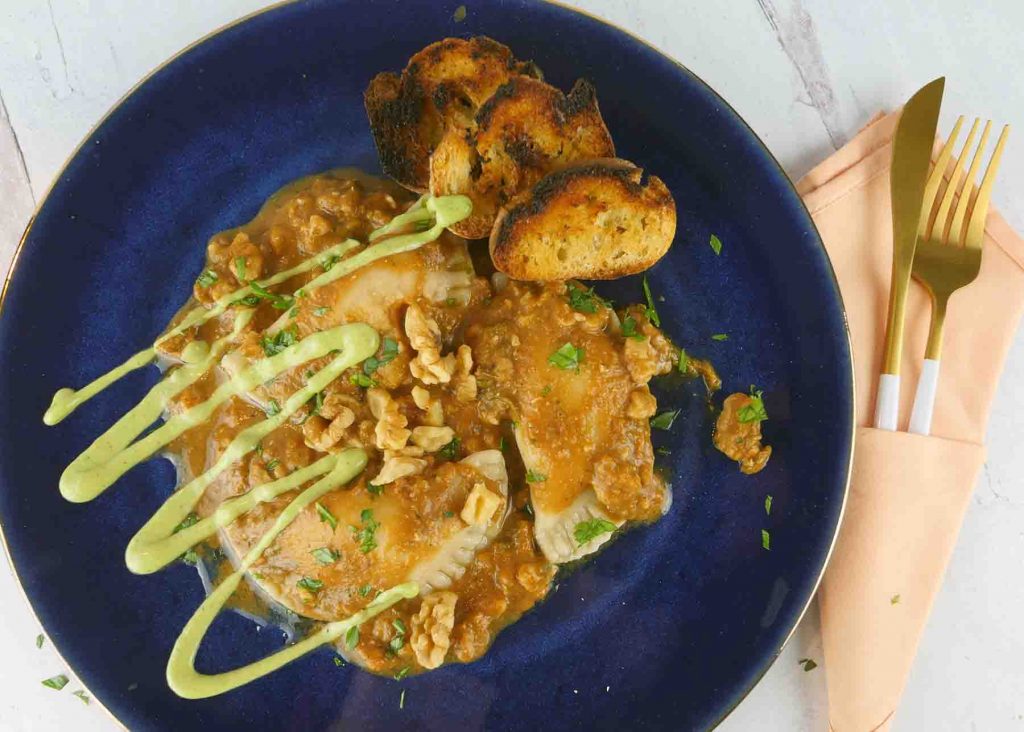 Vegan Pumpkin Ravioli
Keep it Simple to let the Pumpkin Shine
Pumpkin is such an interesting flavor, it works well when you let it shine in your dishes. Our pumpkin filling includes pumpkin puree, nutmeg, salt and pepper. Pumpkin is known for going well with nutmeg, and the salt and pepper enhance the natural flavors in the dish. Pair this with a cashew blend and you have a dreamy filling that stands up to the hype of pumpkin ravioli.
A Cashew Blend Makes the Dish
You'll find many pumpkin ravioli recipes online call for ricotta cheese – our vegan pumpkin ravioli uses a cashew blend to offer a creamy texture and nutty flavor. The cashews provide the fat content you expect when you bite into a fresh ravioli.
Pumpkin Ravioli Sauce
Our pumpkin ravioli sauce is simple, with just four ingredients: pumpkin puree, vegetable stock, sage and crushed walnuts. Sage has a very mild earthy flavor, and is also known for pairing well with pumpkin. The crushed walnuts add a little bite to a dish that is otherwise very smooth.
Nutrition Facts
6 servings per container
---
Calories686
Amount Per Serving% Daily Value *
Total Fat 35.1g

54

%
Sodium 313mg

14

%
Amount Per Serving% Daily Value *
Potassium 489mg

14

%
Total Carbohydrate 80.4g

27

%

Dietary Fiber 7.1g

29

%
Sugars 4.5g

Protein 17g

34

%
* The % Daily Value tells you how much a nutrient in a serving of food contributes to a daily diet. 2,000 calories a day is used for general nutrition advice.
*Nutritional values are approximate based on best available data