I really didn't miss much when I decided to start eating plant based. I was never fond of steak and I was too lazy to worry about marinating chicken. There were only ever two items I found myself craving: cheese and eggs. Cheese has gotten about 100 times easier to replace in the 6 years I've been plant based. Nut cheeses are insanely delicious and there are even stretchy-melty substitutes for pizza and such. Eggs, however, really got the best of me for a while.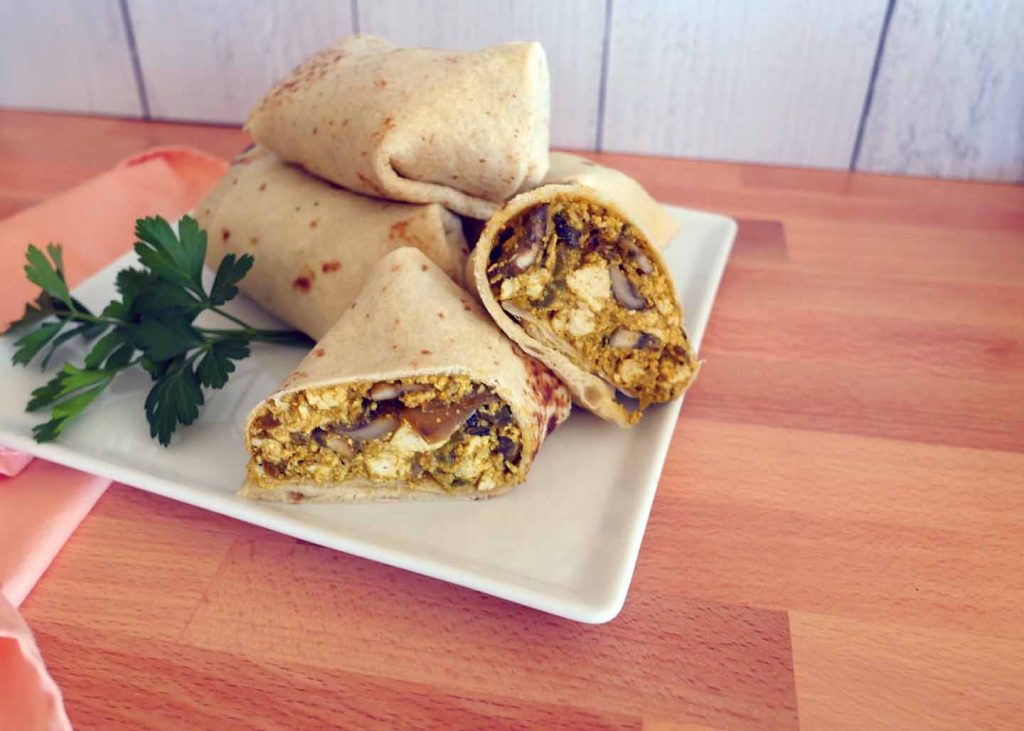 Why Tofu is the Best Substitute for Eggs
Believe me when I say that I have tried everything in the books when it comes to eggs. – but nothing, and I mean nothing, compares to tofu scramble seasonsed properly. Egg replacers taste rubbery and if I can't pronounce the ingredients I usually put it back on the shelf. Tofu scramble on the other hand – it's filling, it's ingredients are straightforward, and when seasonsed (and pressed) appropriately it tastes and feels like a proper breakfast of scrambled eggs.
Tofu Scrambles Saves & Packs Well
We usually make tofu scramble once a week at our house. Besides serving up lower cholesterol than its eggy counterpart, tofu scramble stays good in the fridge for a week. We make it on weekends and then eat it all week for breakfast. I'm partial to pre-rolling breakfast burritos with it and nuking them in the microwave before scurrying off to work. Tofu scramble breakfast burritos are also among our favorite car camping foods. We pre make them and wrap them in foil. In the morning we heat them over an open flame or on a stove and the result is a cripsy browned burrito with piping goodness.
Must-Knows for Cooking Tofu Scramble
I could write a whole series about tofu scramble burritos, but you'd never get to cooking. The two most important things you need to know to make tofu scramble?
I much prefer extra firm tofu. IMHO – it mimics eggs cooked right. If you prefer runny scrambled eggs you may like firm or soft tofu better.
Break up your tofu into chunks and roll it in a towel to get the water out. AKA – press your tofu. You know when you get awful tofu at a restaurant? That means they didn't squeeze the water out, so the tofu didn't take well to the seasoning.
Nutrition Facts
8 servings per container
---
Calories230
Amount Per Serving% Daily Value *
Total Fat 12.8g

19

%
Sodium 174mg

8

%
Amount Per Serving% Daily Value *
Potassium 474mg

14

%
Total Carbohydrate 22.3g

8

%

Dietary Fiber 4.6g

16

%
Sugars 3g

Protein 11g

22

%
Calcium

11

%
Iron

24

%
Vitamin D

473

%
* The % Daily Value tells you how much a nutrient in a serving of food contributes to a daily diet. 2,000 calories a day is used for general nutrition advice.
*Nutritional values are approximate based on best available data