How lucky are we, that Cornell University bred a version of delicata squash that was more resistant to squash diseases? These small, creamy squashes can be baked, steamed, roasted or stuffed. They hit the stands each year in the fall and early winter, just in time for savory, comforting dishes.
Making stuffed delicata squash is easy. You don't have to worry about peeling the skin since the skin is edible (and tasty). Just cut the squash in half, prepare your stuffing, and pop them in the oven for ~23 minutes at 425°. When we eat stuffed delicata squash, we don't worry about making anything else. They are filling, nutritious and perfect for families who have different allergies to consider. This recipe is vegan and gluten free!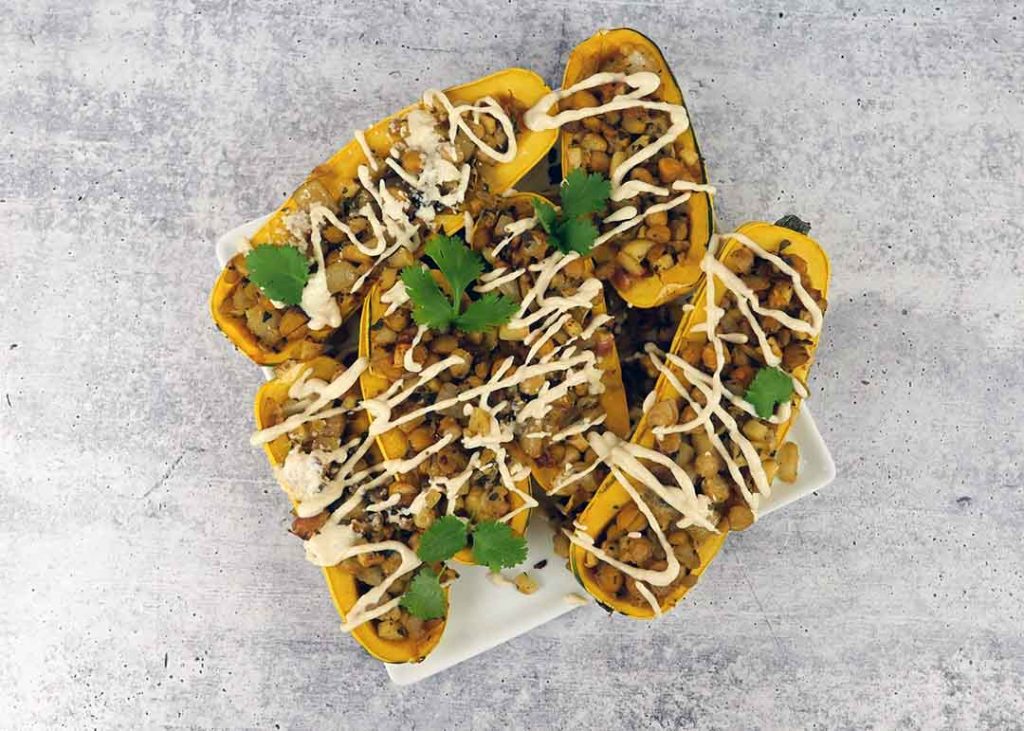 The Delicata Squash Plant
Peanut squash, sweet potato squash, bohemian squash, delicata squash – no matter what you call it we can all agree that it's delicious. This butter-colored, pin striped squash is grown throughout the summer and harvested in the fall. It's actually in the same family as yellow summer squash and zucchini.
Delicata Squash Nutrition Facts
A cup of delicata squash is about 80 calories. It is low fat, cholesterol free, and has very little sodium. About 80% of the calories in delicata squash come from complex carbohydrates. This tiny squash is high in fiber, which means it will keep you full for a long time. In short, delicata squash is a win, win, win.
Can you Eat Delicata Squash Skin?
Yes! Delicata Squash has its name for a reason. The skin is thinner than the skin on other popular squashes. The skin on this tender squash roasts wonderfully and can be eaten right along with the rest of the squash.
Where to Buy Delicata Squash
Delicata Squash is grown in the summer and harvested in the fall. This means you will be able to get your hands on this precious squash in the fall and winter. Your best bet to find Delicata Squash is visiting your local health foods store. Try Whole Foods, Trader Joes or Vitamin Cottage.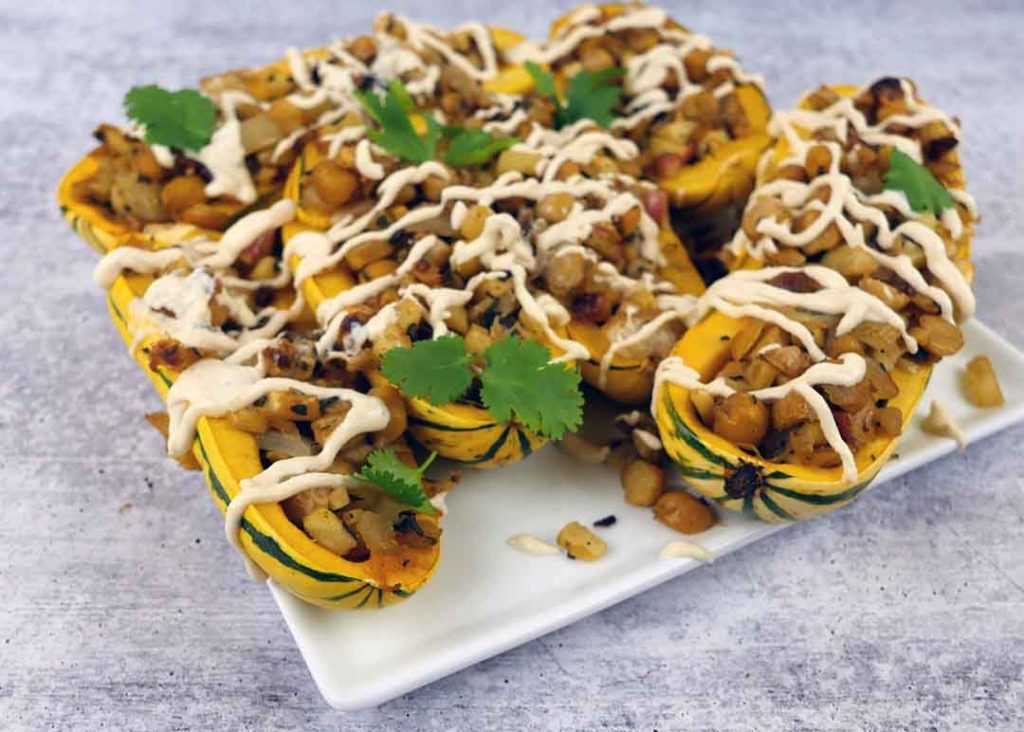 Vegetarian Stuffed Delicata Squash
Our stuffed delicata squash recipe is vegetarian, vegan, dairy-free and gluten free. Plus, it only takes 45 minutes to make. This is the perfect healthy meal for a weeknight. My husband described it as "A Thanksgiving meal with none of the work and all of the flavor".
Why this recipe works:
Spices and seasonings: sage, brown sugar and apple are a match made in heaven. The chickpeas carry these flavors wonderfully to create a dish that is warming.
It's filling: delicata squash packs a ton of fiber, combine that with hearty chickpeas and you've got a healthy meal that will keep you fueled and full for hours.
Texture: creamy and tender delicata squash plays wonderfully with a bit of bite from the chickpeas and pops of crunch from the apples.
Nutrition Facts
4 servings per container
---
Calories404
Amount Per Serving% Daily Value *
Total Fat 14.8g

22

%
Sodium 92mg

4

%
Amount Per Serving% Daily Value *
Potassium 640mg

19

%
Total Carbohydrate 48g

16

%

Dietary Fiber 12.7g

48

%
Sugars 19.1g

Protein 14.3g

29

%
* The % Daily Value tells you how much a nutrient in a serving of food contributes to a daily diet. 2,000 calories a day is used for general nutrition advice.