I have an obsession with kale, but it really started as a love-hate relationship. I loved how good it was for me, but I really didn't like eating it. Once I learned I was doing it all wrong I realized that growing to love kale is all about learning how to cook with it…
If you're using kale in a salad you need to break down the tannins (i.e. the things that can make it taste bitter) by massaging it with something acidic or by letting it sit in hot water. If you're going to use kale in soup you need to make sure it's well cooked and that it has plenty of flavors to mingle with. Green soup is just one of the many items I love to use kale for now!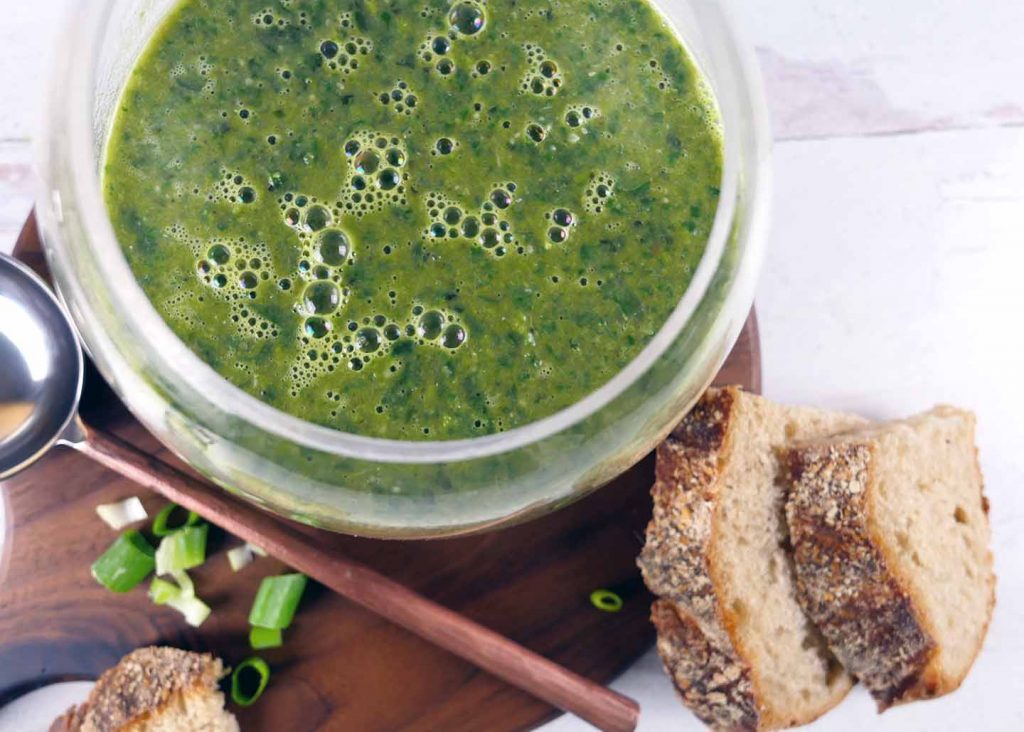 Green Pea Soup Recipe
Getting a green soup right (especially with kale and peas in it) is all about finding the ingredients that can thicken up the soup and keep it from tasting too funky (I mean I love some earthy flavors… but everyone has a limit). I like my green soups to have a deep, velvety flavor. Some people accomplish this by using potato to thicken their green soup, but I prefer rice (thanks America's Test Kitchen!). Adding a few mushrooms to the mix will help give it that deep flavor.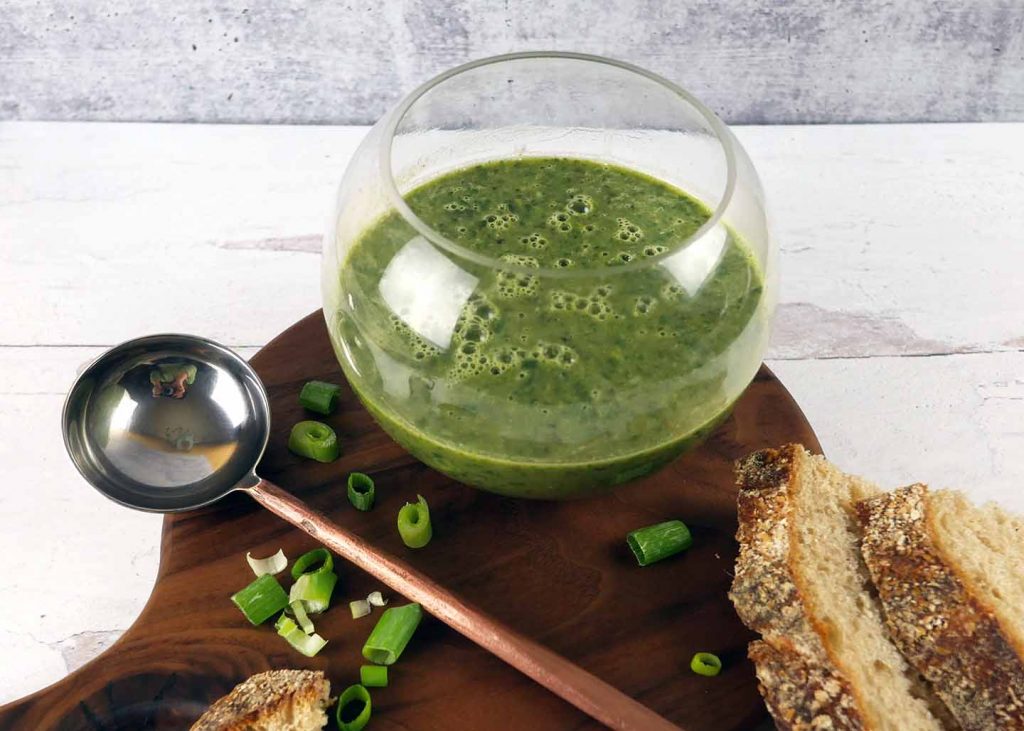 How to Make Pea Kale Soup
Start with Shallots – This recipe begins by slowly building flavor with sautéd shallots. Don't rush the shallots – do this over low heat and let them release their flavors and fragrance to build your soup's taste.
Add Mushrooms to Deepen the Flavor – Adding a few mushrooms will help release some deep flavors that can round out the flavors of the many greens you will add later on.
Keep the Spices Simple – This recipe uses cayenne pepper and fresh garlic, but lets the greens, shallots and mushrooms carry most of the flavor.
Rice acts as the Thickener – Green soup really needs something to hold it all together, or else you end up with warm green juice. Rice works wonderfully for this purpose and doesn't interfere with the great taste you've worked on building.
Let the Green Cook – You'll want to make sure your green are well cooked so they take to blending.
Find the Right Blender – Using the right blender can be the difference between soup with kale or kale soup. We use an immersion blender and then transfer ours to a Vitamix to finish it off.
Nutrition Facts
4 servings per container
---
Calories207
Amount Per Serving% Daily Value *
Total Fat 8.1g

13

%
Sodium 528mg

22

%
Amount Per Serving% Daily Value *
Potassium 663mg

19

%
Total Carbohydrate 27.1g

9

%

Dietary Fiber 3.9g

12

%
Sugars 3.1g

Protein 8.4g

16

%
* The % Daily Value tells you how much a nutrient in a serving of food contributes to a daily diet. 2,000 calories a day is used for general nutrition advice.
*Nutritional values are approximate based on best available data