Once you've made homemade pasta dough properly once, you'll have a hard time staying away. It's relatively inexpensive, you can make big batches at a time and freeze it for later use, and it can be a highly creative process. Don't let the concept of gluten free pasta keep you from enjoying this tasty pastime. We've got all the details you need to make a gluten free butternut squash ravioli for dinner tonight!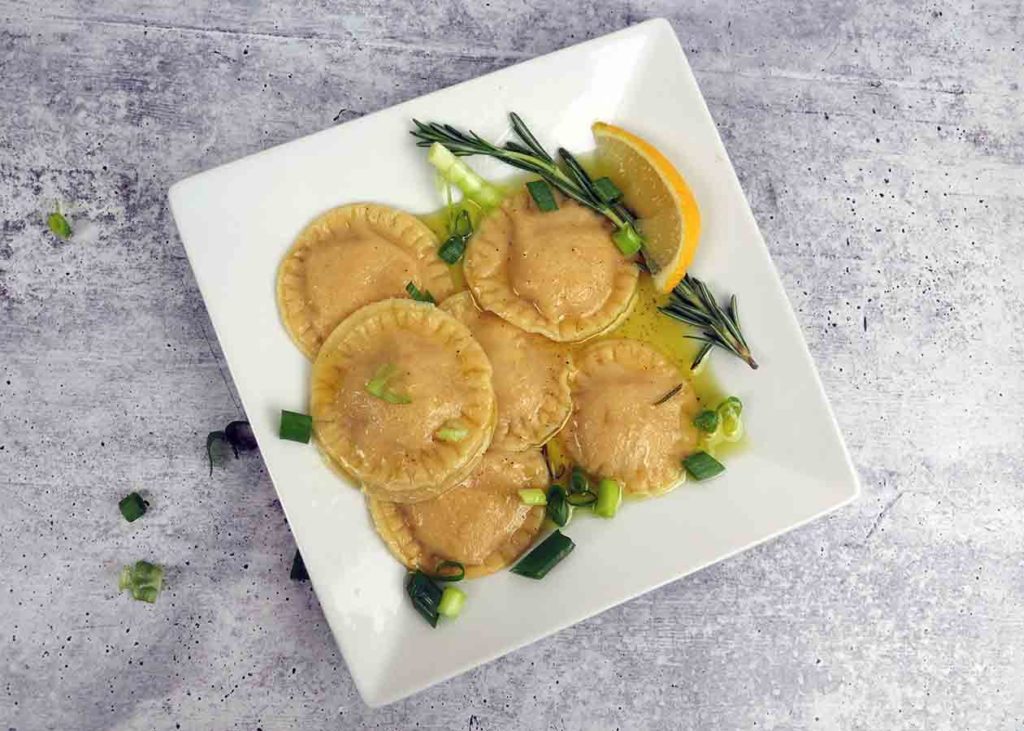 Gluten Free Pasta Dough Recipe
Making homemade gluten free pasta can feel intimidating. Like a great deal of pastas and breads, the typical base of ravioli dough is wheat flour. Wheat – as all you GF folks know – has gluten. It's more intimidating than other gluten free swaps because of the magnitude of flour involved. Pasta dough is primarily gluten flour. It's like building a wood cabin without logs… how on earth do we make this work?
Let's start with the obvious – we need to substitute the wheat flour for a gluten-free flour. Except, gluten helps things bind together… so now we have another problem to solve for. How do we get our gluten-free flour to bind together so that we can make a dough and roll it out? Luckily, we've got access to a little thing called Xanthan Gum. Xanthan Gum acts as an emulsifier and binder, and can even add volume to baked goods. Now we're ready to rock and roll with our gluten free pasta dough recipe!
Gluten Free Vegan Ravioli Recipe
Tap the breaks – the words "gluten free" and "vegan" in one recipe can scare people off, especially if you are not someone who usually subscribes to either diet. Let's take this one step at a time. First, we've already concluded gluten free pasta is doable. Next, let's discuss the concept of vegan pasta.
What is vegan pasta? The truth is, a lot of pasta is naturally vegan. Much of the dried pasta you buy in the store is simply semolina (a type of flour), water and salt. The other item you may commonly see in pasta is egg – however this is often with fresh pasta and it is not a given. Different areas of Italy have different traditions with respect to fresh pasta and the presence (or absence) of eggs. Now that you know a lot of pasta is naturally vegan and we've already concluded that gluten free pasta is doable (and delicious), let's proceed!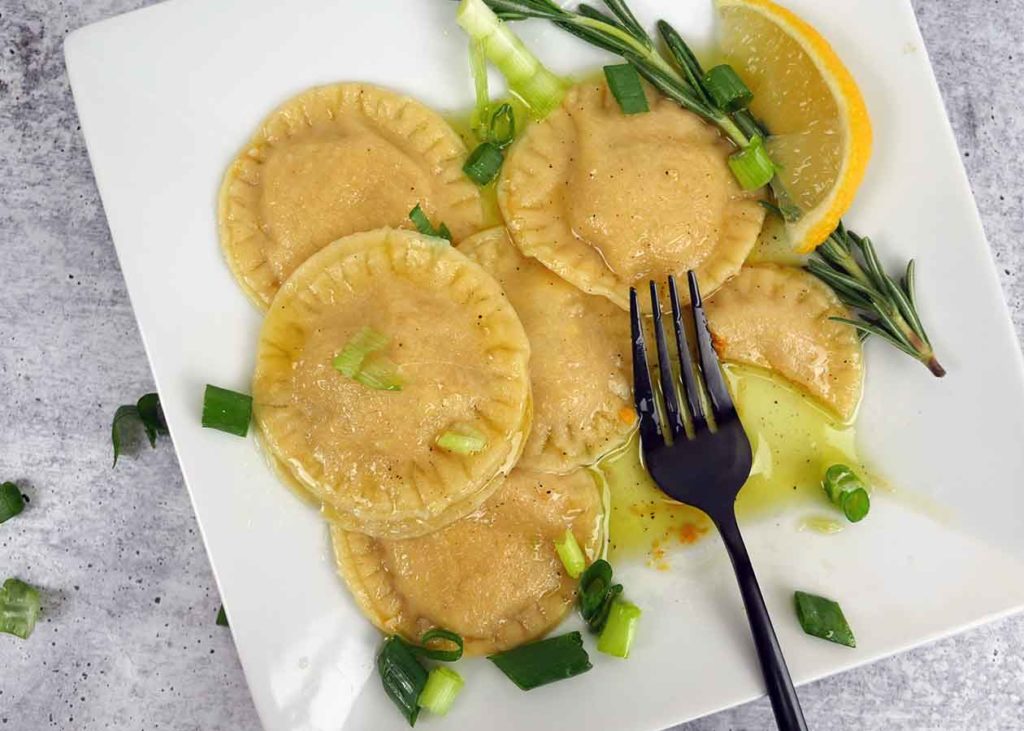 Gluten Free Butternut Squash Ravioli Recipe
While making homemade ravioli is a labor intensive process, we've purposefully kept the ravioli filling and sauce simple and straightforward. The result is a delicate balance of flavors perfect for a fall or spring evening.
Why this Recipe Works:
Xanthan Gum acts as the binding property to form the dough, since we are using gluten-free flour
Soaked cashews add some body to the butternut squash filling, and red pepper adds the perfect amount of heat to keep things interesting
A gentle sauce of oil, garlic and rosemary lets the subtle ravioli filling flavors shine through
Get the nutritional details for this recipe below and start cooking!*
Nutrition Facts
4 servings per container
---
Calories600
Amount Per Serving% Daily Value *
Total Fat 34.9g

53

%
Sodium 117mg

5

%
Amount Per Serving% Daily Value *
Potassium 581mg

17

%
Total Carbohydrate 68.3g

23

%

Dietary Fiber 11.2g

44

%
Sugars 5.4g

Protein 10.4g

20

%
* The % Daily Value tells you how much a nutrient in a serving of food contributes to a daily diet. 2,000 calories a day is used for general nutrition advice.
*Nutritional values are approximate based on best available data