A Plant Based Twist on Tuna Noodle Casserole
What we have here is a classic comfort-filled casserole. The normal tuna noodle casserole we all eat from Maine to Miami, sea to shining sea, loses the tuna in our version, replacing the bland tuna with savory chickpeas. This recipe is a sure-fire way to make sure that you get the delicious flavors that everyone expects from this hearty casserole.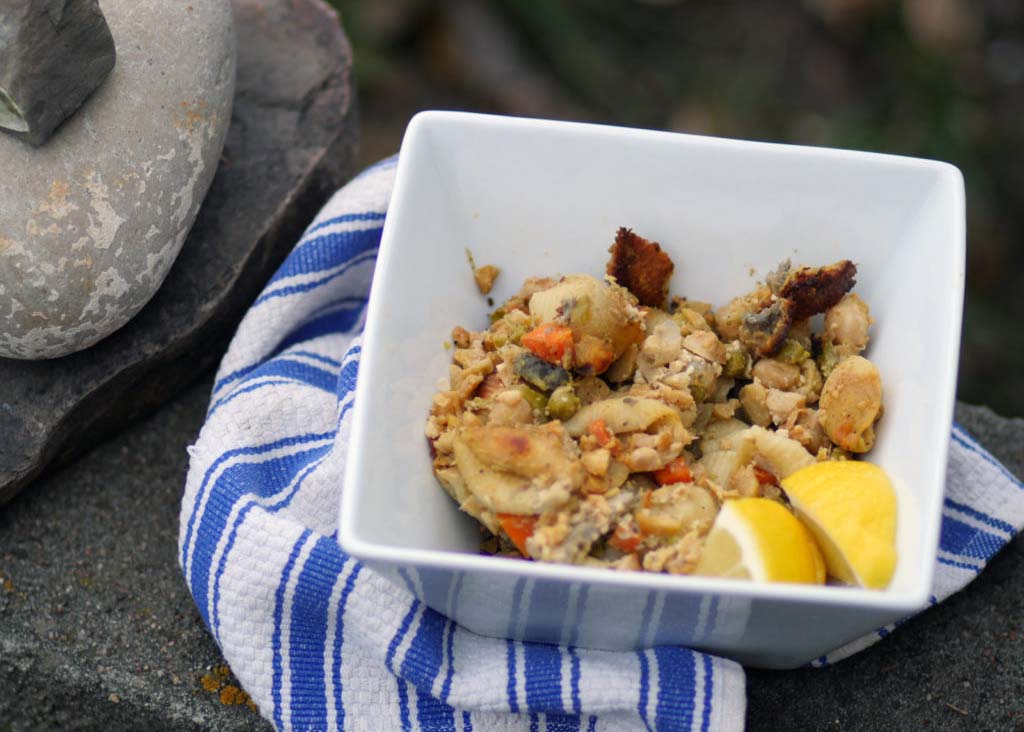 Mirepoix Makes a Great Casserole
We started with an take on "mirepoix", which is traditionally made with onion, carrot and celery. We left out the celery simply because you don't see celery in a traditional noodle casserole. By gently cooking the onion, carrot and garlic before adding the chickpeas, green peas and mushroom soup to create the sauce, you get a balanced combination of flavors that will have you thinking you are back at grandma's house.
Preparing the mushroom soup is as easy as sauteeing the mushrooms with more onion and garlic, seasoning with salt & pepper as you see fit, adding vegetable broth and almond or soy milk and whisking in some flour to create the creamy consistency this casserole requires from its sauce.
Once the veggies are soft and the flavors starting to combine, you throw the sauce and veggies in a casserole dish with pre-cooked noodles and let bake for almost an hour until the sauce is absorbed, the top is golden brown and the edges are nice & crispy. We like to use medium shell noodles because they trap the sauce and veggies inside so every spoonful has a little bit of everything.
Topping the Casserole is Essential
You can top this casserole with breadcrumbs and vegan parm before baking if you want, but we prefer to just sprinkle some vegan parm on right before serving to get that extra umami effect. Your guests will never know that this most excellent casserole is totally vegan.